This post was originally published on this site
Emily Judd '18 M.A.R. is a journalist and, as is typical of millennials, a lover of podcasts. Combining her interest in publicly engaged faith and the medium of podcasts, she created "The Quadcast," a YDS podcast series focused on conversations with Yale faculty members and others on issues at the intersection of faith, politics, and culture. After a highly successful first season in 2017-18, a second season was planned for 2018-19. (All episodes can be accessed at divinity.yale.edu/quadpod.)
YDS sat down with Judd to discuss the Quadcast, her thoughts on religion journalism, and her plans for life after Yale.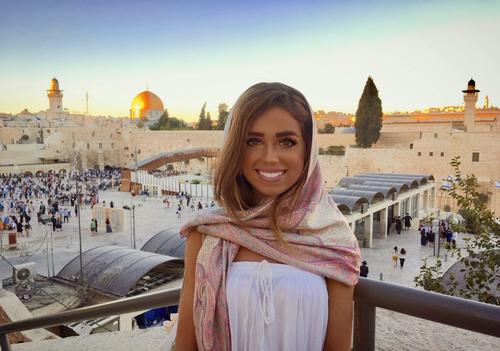 How was the Quadcast born?
Before I came to YDS in 2016, I got really into podcasts. One of my inspirations was Oprah's "SuperSoul" conversations.
Last summer, several of us were driving back to YDS from the Andover Newton signing ceremony, discussing religion-related podcasts and throwing out ideas. I realized there was great potential to start one at YDS. I put a proposal together with suggestions for multiple episodes featuring YDS professors in conversation about religion in politics, spirituality, and culture. It was approved by Tom Krattenmaker and Campbell Harmon in YDS communications. Sachin Ramabhadran, ISM/YDS Media Coordinator, agreed to lend his production talents.
Why did you choose a podcast over other platforms?
Podcasts enable listeners to think deeply on the subject matter. We wanted to give listeners the experience of listening in on a fascinating personal conversation between knowledgeable people. Ours run between 15 and 30 minutes, which is ideal.
***
The Challenges of Editing the Bible: Listen to the new episode of the YDS Quadcast
***
We were able to produce one episode per month over the course of the academic year. A lot of behind-the-scenes work goes into these podcasts. After I do the extensive preparation and recording, Sachin spends a great deal of time editing them and recording his voiceover introduction.
What did you learn in the process?
YDS professors are amazing; they are on the cutting edge. The Quadcast is like a 30-minute seminar with one of them. The experience you come away with is learning how to discuss faith in a way that is playing to the best parts of religion. In each episode, I learned important aspects of religion or politics that I had never considered.
Most news portrays sources of conflict. In contrast, with the Quadcast we try to find topics where religion can be talked about in a way that is respectful rather than denigrating.
How do you stay unbiased?
It's not my place to insert opinion as host. In today's media environment, some newspersons do insert their opinions, but in order for it to be considered journalism, it needs to have objectivity. For the Quadcast, I am hoping to surface insights on important issues, not personal opinions. Yale professors have years and years of knowledge built up on these subjects. Everyone has an opinion, but not everyone has the bank of knowledge that the YDS professors have.
What are you planning to do next in your career?
I am hoping to do religious journalism in the Middle East and to continue promoting conversations in the public sphere that are respectful of every religion.
Quadcast Season One
"Digital Devotion: Christianity Online" with Professor Teresa Berger
"Is the Bible Relevant for Today?" with Professor John Collins
"The Origins of Christmas" with Professor Andrew McGowan
"Are There Limits to Religious Freedom?" with Professor Tisa Wenger
"If There is One God, Why So Many Religions?" with Professor Greg Mobley and Rabbi Or Rose
"What Do Christianity and Islam Have in Common?" with Ian Oliver and Omer Bajwa of the Yale chaplain's office
"How to Find a Life Worth Living" with Professor Miroslav Volf and Research Scholar Matthew Croasmun of the Yale Center for Faith and Culture at YDS
Find all episodes of the YDS Quadcast at divinity.yale.edu/quadpod.