This post was originally published on this site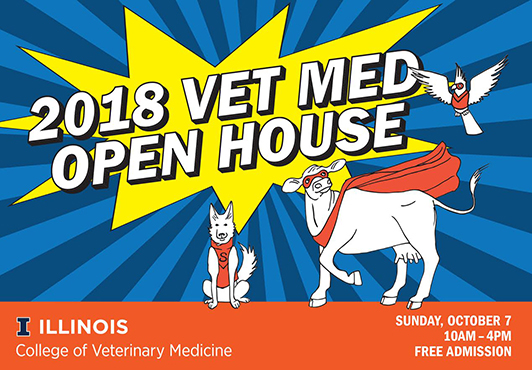 On Sunday, October 7, from 10 a.m. to 4 p.m., more than 300 veterinary students will host a behind-the-scenes look at the state's only veterinary college. From prospective veterinarians to passionate animal lovers, there's something for everyone at the University of Illinois veterinary college Open House.
The event offers more than 40 fun and educational exhibits and hands-on demonstrations. There will be lots of animals and animal-related activities for young and old. Among the animals will be cows, horses, dogs, snakes, pigs, bunnies, cats, sheep, goats, and birds of prey.
Visitors can milk a cow and see an "illustrated" horse, painted to reveal where the bones on the inside are. Live demonstrations will include the Illini Service Dogs, sheep shearing, and horse-shoeing.
New this year is a demonstration of the Illinois Cow app, which allows users to view an augmented reality cow on their smartphone or tablet where they can make the various organ systems appear or disappear to better study anatomy.
The college's innovative Clinical Skills Learning Center will be open to showcase the animal mannequins, simulations, and state-of-the-art teaching equipment. This includes a life-sized model horse, which is used to teach skills in imaging, emergency medicine, and other areas.
Prospective veterinarians are encouraged to attend Open House. Admissions talks will demystify the path to becoming a veterinarian and offer details about the unique Illinois curriculum and the Doctor of Veterinary Medicine degree program.
While most people associate veterinary medicine with routine health care for dogs and cats, the profession offers a whole world of career options, all with one focus: improving life for people. Activities of the veterinary medical profession benefit every person in the state, either directly—by providing care to companion animals and livestock—or indirectly through work in medical research, public health, food safety, disease surveillance, environmental health promotion, and many other areas.
The event is free; registration is not required. Free parking is available in Lot F-27 at 2001 S. Lincoln Ave., Urbana, at the College of Veterinary Medicine. For a list of exhibits and directions, see https://vetmed.illinois.edu/about/open-house-demos-and-exhibits/
Please note that the event is for human visitors only.