This post was originally published on this site
Oct. 1, 2018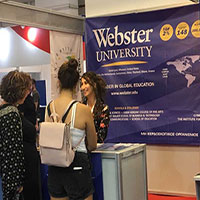 Webster University Athens participated at the 83rd Annual Thessaloniki International Fair (TIF) 2018, the biggest in the Balkans, Sept. 8 -16, where U.S. was the honored country. With a robust presence of American corporations and institutions, the U.S. Pavilion was the real activity hub during the Fair, showcasing how "Harnessing the Power of Innovation and Creativity" can build a strong partnership between U.S. and Greece for a better, dynamic and sustainable future.
Over 55 U.S. companies participated at the TIF18 in a range of sectors including healthcare, aerospace, defense, information technology, consumer products, energy and education. "Our decision to have such a robust presence at the TIF demonstrates our confidence in Greece's economic future as well as the desire of American business to be partners in promoting that future," said the U.S. Secretary of Commerce, Wilbur Ross, who was the head of the U.S. trade delegation.
"The Trump Administration values our close partnership and seeks to further bolster our trade investments ties. Our bilateral trade totals over two billion dollars and is growing, and investments flows are also expanding. U.S. investment has helped play an integral role in the Greek economy and will continue to do so," Secretary of Commerce declared.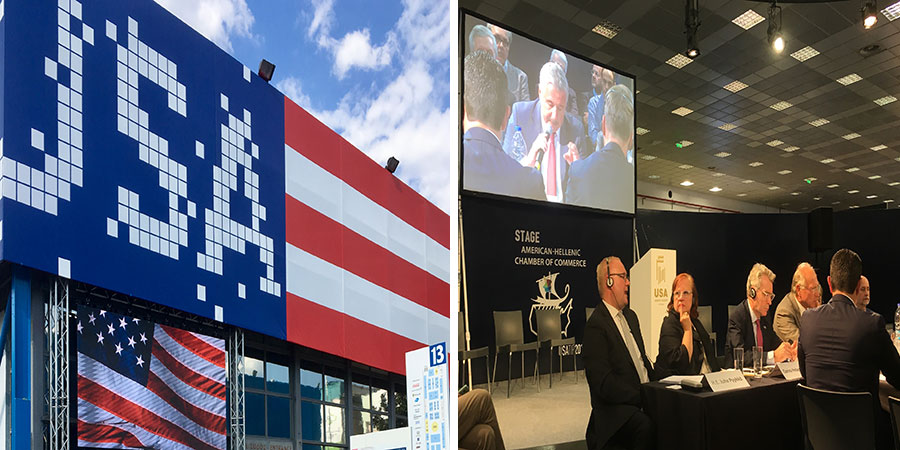 Speaking at the meeting of American CEO's, U.S. Ambassador to Greece Geoffrey R. Pyatt emphasized the significance of the strong representation of American companies at TIF 2018: "We very much see TIF not as the end state, but as the launching pad to the next stage of our work with Greece, and we're very, very grateful to all of the American companies that did us so proud here." "It is obvious," Ambassador Pyatt stated, that "Americans are back to Greece". "These companies show how the American culture of entrepreneurship and innovation drives growth and spurs economic development, improving our lives in the process."
"It is also intended to reinforce the role we see for Greece – and Thessaloniki – as a gateway to the wider Balkan region, and a key regional partner on issues like energy, logistics, and transportation," said Ambassador Pyatt.
People of diverse cultures, ages, professional, educational and socioeconomic background visited the booth of Webster University Athens to learn about the studies the University offers globally.
Webster University Athens representatives attended several Talks & Events at the U.S. Pavilion, organized by the American-Hellenic Chamber of Commerce in cooperation with the US Embassy in Athens. Topics of discussion included: the Mineral Resources as a Key Growth Driver for the Greek Economy; Artificial Intelligence & Ethics; Defense; Cyber Security; Clinical Trial Investments; Building Identity Through Work; Unlocking Innovation Through Startup Engagement; How you can Innovate and Expand your Business; Creating Opportunity and Impact in Real Economy; Thessaloniki in its Modern Maritime Role as a Key Partner in the International Transportation Chain; Digital Influencers Hub; Delivering World Class American Innovation, etc.
tags: global, webster life, webster today, athens,