This post was originally published on this site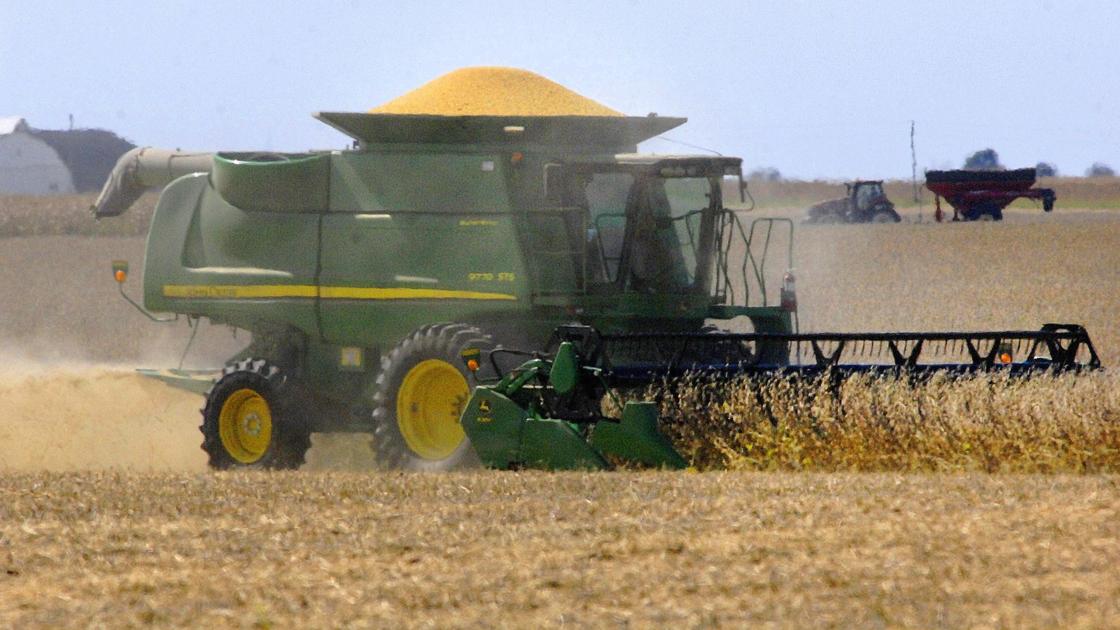 "It is still too early to tell what effect those benefits will have," said Thomas Wargel an accredited farm manager and owner of Black Prairie Ag Services Inc. in Clinton.
"The government will monitor the market during the fourth quarter and even as early as December, they could declare another payment," Wargel said. "My guess is if the market remains in the tank, the beans will almost certainly generate another payment because we are $2 to $3 below what they were earlier in the year."
In a report released by the University of Illinois Department of Agricultural and Consumer Economics, an average 1,200-acre farm in Illinois will receive $32,400 in payments. That is based on the estimated yield of 64 bushels per acre for soybeans and 207 bushels per acre for corn with a 50 percent corn and 50 percent soybean rotation, arriving at an average payment of $27 per acre.
Paul Coleman, a soybean and corn farmer near Heyworth, said he is anxious to see how the program works, but is more concerned right now with getting his crop out of the field.
"The first priority is to get the crop out and then start planning for next year," he said. "Maybe on some rainy day, I will start putting the paperwork together, but there is a lot to be done before then."
"We are disappointed that agriculture continues to be placed in the middle of the tariff debate with China," she said this week. "We are hopeful that continued negotiations can occur that will strengthen the competitiveness of our domestic industries while at the same time grow our agricultural export opportunities."
In Macon County, many farmers are balancing a fear of losing their livelihood with a patriotic instinct — that sacrifices must be made to see through President Trump's trade war with China.
"I'm behind the president, the (Macon County Farm Bureau) is behind the president — all of my peers are behind the president — we're all for getting this straightened out," said Rob Albers, a farmer in Blue Mound. "The only thing we're uncertain of is, how long we can wait?"
The federal payments are production-based and farmers with higher yields will get higher payments.
Many area farmers will be able to weather the hit this year, said Albers, even as commodity prices for corn and soybeans have fallen by at least 20 percent since April. But the USDA's relief checks hardly make up the difference.
"Our prices are way more off than $1.65 (per bushel) since this tariff started," said Albers, referring to the rates the USDA is paying to soybean farmers.
Albers said the breaking point for farmers would come next year if the trade war continues, especially for younger farmers who have not built up the equity to finance the growing season with cash, he said.
"If we take a look at Brazil or Argentina filling some of the soybean shipments with China, we're going to have a really difficult time getting our foot back in the door with these trade partners and companies in China that we've done business with in the past," Brown said.
For Albers, cutting and running from the administration's tariff strategy is not an option. "I wouldn't want to end it now, I wouldn't want to do this with our tail between our legs and say that we gave in," he said. "I'd much rather see China buckle."
Vallori Degler, president of the Coles County Farm Bureau Board, said her family also is anxious about 2019 spring planting if the trade disputes with China cuts further into farm income that has been decreasing for the last four years.
She said the U.S. had been exporting $14 billion in products per year to China and $1.75 billion of that had been from Illinois, particularly soybeans, corn, and pork. She added that China had purchased 25 percent of Illinois soybeans.
Consequently, Degler said Illinois is among the states most affected by the trade disputes, adding the economic effects on farmers will trickle down to related industries that work with agricultural products.
And, she agreed with Albers that the federal aid will only cover a fraction of farm income losses.
Restoring trade is more important to the agricultural economy than a check, she said.