This post was originally published on this site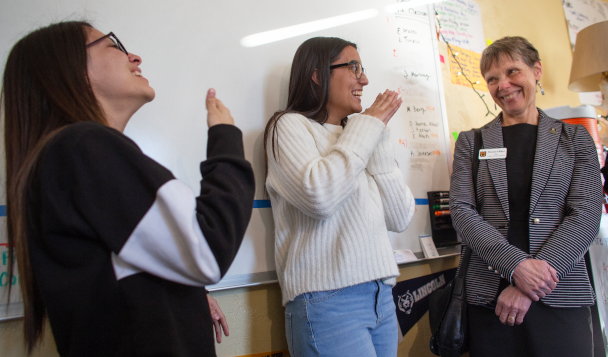 On Dec. 17, leaders from the University of Missouri and KC Scholars presented Kansas City area high school students with scholarships up to $50,000 to attend Mizzou.
Since President Mun Choi announced a major investment in need-based scholarships in September, the University has secured $60 million for the UM Promise and Opportunity Scholarships. Of the $60 million, the University of Missouri System contributed $15 million by matching funds for scholarships at University of Missouri-Kansas City and the University of Missouri-Columbia, with the ultimate goal of contributing $75 million towards these scholarships over the next five years. Successful funding is the result of partnerships between the UM System, individual universities and community contributions. The integration of philanthropic support was a major point in President Choi's September address, in which he outlined up to $260 million in future investments for the UM System. As part of the agreement, each university will be required to match and then seek philanthropic support to expand the benefits of the system investments going forward.
Investment matching was provided by UMKC and MU, as well as by KC Scholars, a program that provides financial help to students from low- and modest-income families in the Kansas City area who are interested in pursuing higher education. The KC Scholars program is funded by the Kauffman Foundation and various community groups, and 2019 scholarship applications are open until March 1.
Progress towards the investment goal began with UMKC Chancellor Agrawal's November announcement of a $20 million investment for the UM Promise and Opportunity scholarships, including $10 million from KC Scholars, $5 million from the UM System and $5 million from UMKC. The investment matching allowed a major expansion of the KC Scholars program at UMKC which, over the next 9 years, will provide 400 more students with a $10,000/year scholarship, renewable for up to five years, to attend UMKC.
In December, MU Chancellor Cartwright and leaders from KC Scholars announced an additional $40 million investment in the UM Promise and Opportunity Scholarship program, with $20 million from KC Scholars, $10 million from the UM System and $10 million from MU. Like the UMKC program, the scholarships will provide up to $50,000 to students to attend MU. The partnership is expected to provide financial support for up to 800 students at MU over the next 8 years.
New scholarship opportunities are part of a systemwide initiative to lower the cost of higher education and reduce student debt. Other efforts in the cost-reduction initiative include development of an Open Educational Resources (OER) network and a new partnership with Cengage, one of the largest textbook publishers in the United States. The UM System continues to explore methods of lowering student costs, including seeking interested community groups to expand the UM Promise and Opportunity Scholarship program as well as the Next Generation Merit Scholarship program, a merit-based opportunity, to all four universities.
Share This
About this Story
Campus: System
Key words:
County: