This
post
was originally published on
this site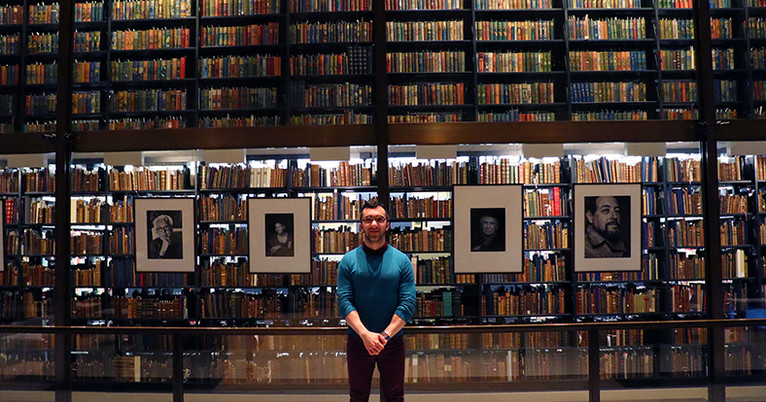 "The more I discovered about the work that went on, the more I wanted to really try and work in as many different parts of the library as I possibly could, to really understand how a world-class library functions, what the different departments are, what they do, how they interact, what are the processes involved" Alexander says – and the Beinecke Library staff were quite willing to work with him, to provide him opportunities across the library, and to be his mentors.
After working with Barton as curatorial assistant, Alexander worked with Kerri Sancomb in exhibitions and preservation, "making exhibition mounts, helping with installations" and other work he calls a "fantastic" way to reactivate his arts training from his fashion design days at CSM.
Sancomb shares Barton and others' high regard for the graduate student's work. "Phoenix was an extraordinary assistant during a transition time in the exhibits unit when we were down a staff member," she remembers. "Phoenix jumped right in as a reliable and prompt student assistant. He brought a cheerful and humorous energy while maintaining razor sharp focus on the many cascading tasks at hand – we always looked forward to Phoenix's shift! I learned a lot about science fiction, fashion & analog gaming during my time with Phoenix!"
Learning while helping bring Samuel R. Delany's personal library to Yale
Another highlight of his Beinecke Library career soon followed when Alexander was asked by Timothy Young, curator of
modern books and manuscripts
, to accompany Young and catalog librarian Chris Smith, to assess and acquire the collection of major science fiction writer Samuel R. Delany in Philadelphia.
"Beinecke staff were aware of my desire to learn and retrain and work towards a career as a curator myself," Alexander says, and the opportunity to meet Delany and work with that collection was "a perfect fit" given Alexander's vocational interest and his scholarly focus on 20th century African American fiction.
Young, Smith, and Alexander worked to select approximately 300 boxes of material from Delany's vast personal library to be accessioned for the Beinecke Library collections. "It was an incredible opportunity," according to Alexander, who cherished "the opportunity that Tim Young gave to a graduate student like me."
Young likewise treasured the talents Alexander brought to the library. "It's rare to find someone whose enthusiasm for the intellectual components of an archive is matched by their excitement in learning about the physical and technical requirements to make material available for researchers," the curator said. "Phoenix is always at-the-ready to literally dig into the stuff – while simultaneously holding a conversation about the definitions of literary genres."
Delany was as impressed by Alexander as Beinecke Library staff were. "I have known a number of folks who have worked in libraries—and I have as good a feeling about them as photographer Kyle Cassidy has in his wonderful book, Faces of Librarians," Delany says. "But no one has ever been more helpful and as friendly on this level than has Phoenix Alexander. He is a young man whose work, enthusiasm, and knowledge I have come to value greatly, and I hope his graduation is the start of a fulfilling and rewarding time for him."
The generosity of library staff as mentors
"People really took my desire to train in library work seriously, to know not only the scholarship, but the work on the ground in libraries that is required to make materials accessible to scholars," Alexander recounts in describing the generosity of Beinecke Library staff as mentors.
Like so many students at Yale, Alexander knows the library through doing his own research in the reading room, as well as from classes taught in the library, and its public exhibitions and programs. His service behind the scenes deepened his awareness of the complexity of library work that supports scholarship in the reading room, classrooms, in the exhibition hall, and online.