This post was originally published on this site
At the start of the new year, the University reflects on a busy and productive 2019. We are proud of the efforts and accomplishments of faculty, staff, students, and alumni in advancing Yale's sustainability goals, making impacts locally and globally, and connecting across disciplines and departments on creative and innovative solutions to today's complex challenges. Here are some of the highlights:
Leadership
In September, Yale hosted the annual meetings of the Sustainability and Real Estate (Facilities) groups of the International Alliance of Research Universities (IARU). IARU is a presidential-level partnership of eleven international research-intensive universities from nine countries across the globe that share similar values,
a global vision
and a commitment to educating future world leaders. The outcomes from the meeting are shared projects related to upcoming global conferences, the UN Sustainable Development Goals, scope 3 emissions, and life cycle costing of buildings.
In November, Dr. Robert Dubrow and Dr. Jodi Sherman, faculty members at the Yale School of Public Health and Yale School of Medicine respectively contributed to the launch of the
Lancet Countdown 2019 Report
. According to Dr. Dubrow, "The report emphasizes that if the world continues on its business-as-usual pathway with regard to greenhouse gas emissions, the health of every child born today will be profoundly endangered by climate change, from cradle to grave."
Empowerment
In February, the Yale Divinity School hosted the second annual
Graduate Conference in Religion and Ecology
, which provides a space for students to engage in dynamic, interdisciplinary conversations across curricular boundaries, and strives to connect ethos with ethics, and ethics to applicable practicality.
In April, Yale Sustainability hosted its Earth Day Awards breakfast. Former Department of Energy and Environmental Protection Commissioner Rob Klee and Forestry & Environmental Studies Faculty member Karen Seto offered insights on Yale's role as an anchor institution in New Haven. Awards were given to Alan Organschi, Cathy Jackson, David Evans, Maya Prabhu, Miraj Desai, Misha Semenov, Sergio Gonzalez, SWAY, and Vanessa Correia.
In August, each of Yale's 14 residential colleges
launched their own Sustainability Action Plans
for the first time. Since the release of the plans, Sustainability Liaisons in each of the colleges have been implementing projects and designing initiatives to drive them toward accomplishing their goals.
Yale's annual Celebrate Sustainability took place throughout campus during the second week of October. Events included Growing Native Plants from Seed, Tree Planting, a Pay As You Throw Celebration, and much more. The highlight of the week was a poster session and reception where 20 departments and colleges from throughout campus showcased their sustainability innovations, and Bryan Garcia (FES '00), the CEO and President of the CT Green Bank offered a keynote about Yale's role in supporting sustainability in Connecticut.
Health & Well-Being
Throughout spring 2019, students from the Schools of Architecture, Public Health, and Forestry &Environmental Studies collaborated with peers from Cambridge, Oxford, Harvard, MIT, and Stanford to co-host a series of events focused on Nature, Heath, and Built Environment. Notable speakers at Yale included Vivian Loftness from Carnegie Mellon and Allison Mears from The New School.
In January,
Yale hosted top Chinese chefs
for the Food Forward Forum, a sustainability-focused culinary exchange. The chefs came to Yale to learn how to make their own menus leaner and greener. The forum was part of
a larger initiative for Yale Hospitality
to make its sustainability and wellness expertise available to the international food industry.
In February, in coordination with Yale Health, Yale Sustainability hosted the fourth annual
Declutter, Destress, Donate
campaign, focused on empowering individuals to make positive changes in their personal lives and to help others in the community by donating materials and diverting them from the waste stream.
In September, Yale Sustainability launched a project to assess the use of toxic materials in the arts part of campus. Led in collaboration with Environmental Health and Safety and the Schools of Architecture and Drama, this work is focusing both on improved communications about risks and the reduction of toxic materials coming onto campus.
In October, Yale hosted the second annual
Forward Food
event in collaboration with the Humane Society of the United States.
Also in October, Yale Hospitality launched its sustainability action plan, which charts a course to even more ambitious procurement standards, reduced food waste, increased efficiency, and ongoing research and development in support of sustainable food systems.
Climate Action
In September, Dean Takahashi, Senior Director of the Yale Investments Office announced
plans to establish the Yale Carbon Offset Laboratory (COLab)
in 2020. This effort will engage faculty and students from across Yale who are developing technologies that sequester and store carbon, and reduce greenhouse gas emissions.
Stewardship
In April, Yale Grounds Maintenance implemented
smart sprinkler and irrigation systems
throughout campus, focused on decreasing water usage. The app, which is connected to local meteorology forecasts, will pause if rain is predicted, thus limiting waste by complementing what is naturally occurring.
During the summer, faculty members and local researchers teamed up with grounds maintenance employees to launch a set of designed experiments in support of the development of the Yale Biodiversity Plan. The results of the summer work have already informed next steps for a rain garden installation on the athletic campus.
Built Environment
The new Yale Science Building (YSB)
opened in August. Located in the footprint of the former J.W. Gibbs Laboratory building on Science Hill, the highly energy-efficient YSB offers faculty and students seven stories and 280,300 square feet of newly finished space in which they may answer some of the most important scientific questions of the 21st century.
In December, Procurement established new design standards to eliminate the presence of flame retardants and other toxic chemicals in furniture for new building and renovation projects.
A guide was also created
to aid the Yale community in purchasing healthier furniture.
Materials
In January Yale launched the
Pay as You Throw (PAYT) pilot program
. A first-of-its kind pilot among American higher education institutions, the pilot was focused on a simple question: if a price tag were attached directly to the amount of trash we throw away, would we be incentivized to reduce our waste and improve our recycling practices? In December, the results of the pilot indicated that data and information help change behavior when it comes to waste generation. Moving forward, the Office of Sustainability will collaborate with Facilities and other key operational groups to integrate lessons learned from the pilot to inform future programming and decisions around waste management at Yale.
In September, Berkeley college launched a pilot program aimed at improving recycling efforts that is testing the use of recyclable paper bags instead of plastic bins. A mid-year survey showed mixed results and highlighted the need for better communication.
In May, Yale's 318th Commencement
eliminated single-use plastic water bottles
from the ceremony, saving around 11,000 bottles from entering the waste stream in the effort. The plastic bottles were replaced with compostable cups and the encouragement to bring reusable containers for hydrating.
Mobility
In July,
Yale earned second place
for The Most Emissions Prevented in the Drive Less Connecticut competition. Yale commuters recorded 4,225 greener trips, 38,585 miles not driven, and over 65,300 pounds of emissions avoided.
In October, Yale Sustainability distributed the Transportation Survey, focused on gathering information on commuter habits within the Yale community. The report will be released early 2020, with a focus on improving the existing Yale infrastructure for commuters of all types.
In December, Yale was awarded funding for the purchase of an electric bus to add to the shuttle fleet.
Technology
Looking Forward
2020 promises to be a remarkable year for sustainability. The Office of Sustainability looks forward to another year of marking and making history, and invites everyone in the Yale community to join in by resolving to
take action
.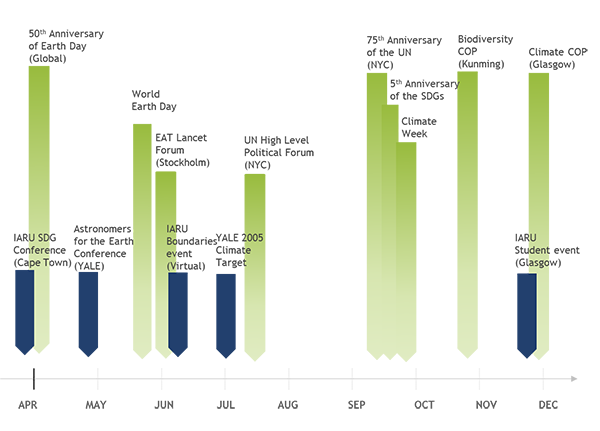 Yale is committed to building a more sustainable world. By doing what we do best—integrating science, the humanities, and our community—Yale creates, tests and adopts innovative solutions to the environmental and social challenges we all face.