This post was originally published on this site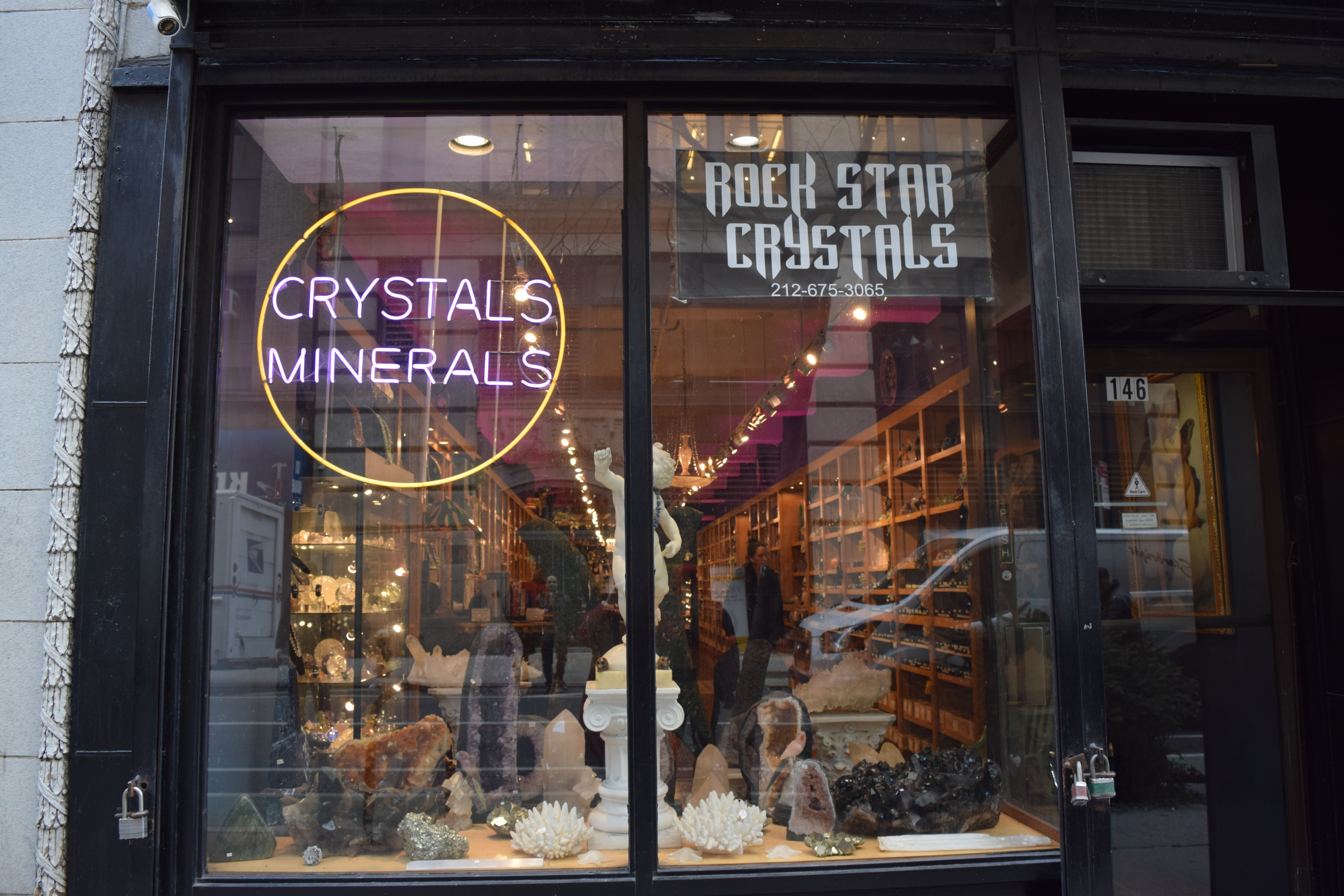 In the East Village of New York City, filed away in a row of neat storefronts, a neon sign reads "CRYSTALS, MINERALS." Packed full of sparkling gems and cut stones, Rock Star Crystals is the type of place you might expect to see a geologist or gem collector.
But stepping inside is a different story. Signs point customers toward chakra stones for energy healing, boxes of brightly-colored agate for creativity and strength, and even bundles of sage for purification. The store is one of many businesses that aims to appeal to a rising demographic: witches.
Although many Americans may connect the term "witch" to the Salem witch trials of the 17th century, practitioners of witchcraft connect it to a deeper historical legacy, tracing its way back to pre-Christian pagan religions. Wicca, one of the largest, formalized neo-pagan religions, was introduced to the United States in the mid-20th century.
The Wiccan belief system celebrates divinity in the Earth and nature and revolves around a set of rituals and practices that align with the seasons and phases of the moon. "Witch" is often used as an all-encompassing term: although some witches are Wiccan, others identify as "Pagan" or simply as non-denominational witches.
According to the American Religious Identification Survey, between 2001 and 2008, the number of Wiccans increased from 134,000 to 340,000. The number of Pagans followed a similar trend, increasing from 140,000 to 340,000. More recently, the Pew Research Center's Religious Landscape Study, conducted in 2014, estimated that 0.3% of the U.S. population, close to 1 million people, identified as Wiccan or Pagan.
Though Wiccans still comprise the majority of self-identified witches in the United States, many practitioners identify as generalized or "eclectic" witches, adapting their beliefs from a variety of sources and traditions with a focus on the natural world.
Dr. Helen Berger, professor of women's studies and sociology at Brandeis University and author of several books on witchcraft, including "Teenage Witches: Magical Youth and the Search for the Self," argues that there has been a marked increase in non-denominational witchcraft, citing the survey data she collected for her books.
"When I gave my first survey, the number one spiritual path, sect, denomination, whatever term we want to use of contemporary paganism, was Wicca," Berger said in an interview. "Now, unsurprisingly, it's eclectic. More people practice alone."
Deborah Blake, a Wiccan high priestess and author of books on modern witchcraft, such as "Everyday Witchcraft," echoes this sentiment.
"Witches in general are sort of slowly veering away from the strictly wiccan, and going more towards 'I would consider myself to be an eclectic witch now,' which values a little bit of everything," Blake said.
The increase in the number of self-identified witches in the United States has greatly affected businesses like Rock Star Crystals. Lauren Robertson, a manager at Rock Star Crystals, sits at the front of the store, tucked behind the glass display cases housing the more fragile and expensive items. Customers come to her with questions: from technical queries to metaphysical complaints, she answers them all without missing a beat.
A practicing Wiccan herself, Robertson has seen the shop transform from a gemologist warehouse to a haven for witches and other spiritual seekers.
"I would say my bosses maybe were a little hesitant to go in that area, at first," Robertson said. "They didn't really feel super connected to crystals on a spiritual level."
After years of operating in a tiny second floor walk-up, Rock Star Crystals moved to its current location, a more prominent street front property.
"Since we were so small before—we were in an intimate location—I would say our clientele was more gemologists, geologist, people who study gems and minerals," Robertson said. "But we've grown into more of a metaphysical focus, we're trying to incorporate more metaphysical memorabilia. We're trying to kind of have more of an outreach to those communities."
Many of these new customers are influenced by popular culture or celebrity endorsements of crystals. The singer Adele was one of many celebrities to reveal that she utilizes crystals, stating during a concert at the O2 in London that she uses the crystals for luck during her vocal warm ups.
"When Adele mentioned carrying crystals on her person, I think it was in one of her award speeches, she mentioned it," Robertson said. "And suddenly people were asking, 'well, what are you talking about, carrying crystals on you? What does that mean?' I think when that kind of craze started coming out, a lot more customers started coming in, and a lot of people wanted to know more about the crystals."