This post was originally published on this site
Two College of Engineering faculty members have been selected to receive the 2020 Dean's Early Career Fellowship in recognition for their exemplary contributions to their respective fields: MechE's B. Reeja Jayan and EEP's Alex Davis. The fellowship provides funding to continue their innovative research.
The Dean's Early Career Fellowships are awarded to untenured faculty members who have been nominated by their department heads. They were selected to receive the fellowship after review and discussion by the College of Engineering Review Committee.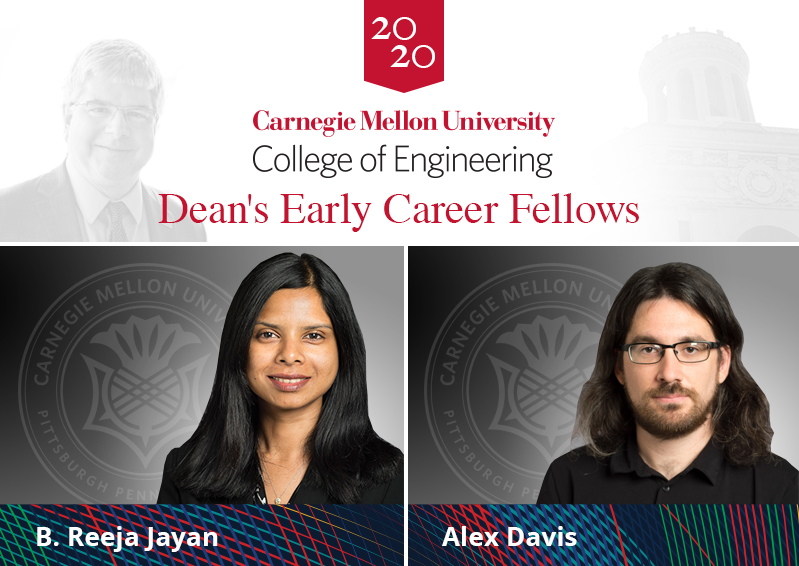 Source: College of Engineering
Reeja Jayan
Jayan, associate professor of mechanical engineering, leads her multidisciplinary lab's research in field-assisted materials growth, exploring different ways electromagnetic fields can synthesize materials previously unavailable for conventional synthesis routes. Her work has been awarded funding from the Department of Energy (DOE), Defense Advanced Research Project Agency (DARPA), and private sponsors. Jayan has earned numerous young investigator awards, including the 2018 National Science Foundation (NSF) CAREER Award, The Incline Who's Next: Technology Award, and Pittsburgh Magazine's 40 Under 40 Award.
Alex Davis
Davis, associate professor of engineering and public policy, studies the behavioral foundations of policy, with specific applications in innovation and entrepreneurship, energy, the environment, health, and information and communication technologies. Davis's unique expertise has led to interdisciplinary collaborations inside and outside of Carnegie Mellon. He is a member of the Behavior, Decision, and Policy Group, the Carnegie Electricity Industry Center (CEIC), and the Center for Climate and Energy Decision Making (CEDM).