This post was originally published on this site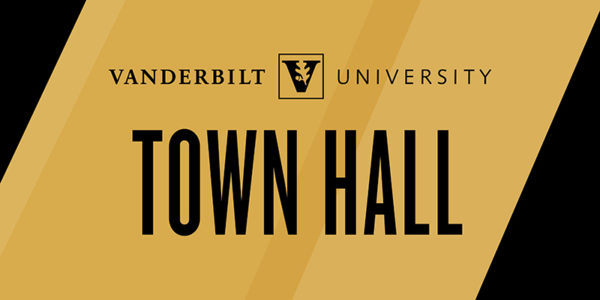 Medical experts from Vanderbilt University and Vanderbilt University Medical Center will host two virtual town halls focused on the medical aspects of COVID-19 on Saturday, July 18.
The town hall for faculty, staff and post docs will take place from noon to 1 p.m. The town hall for student and families will take place from 2 to 3 p.m.
Both town halls will include a discussion on the virus itself and what is known about its spread, treatment and the work towards a vaccine. The university's plans for testing and contact tracing, how the university and medical center are connected to the city's response to COVID-19 and the university's primary health and safety protocols will also be discussed.
The live webinars will also include a moderated question-and-answer session.
Registrants can submit questions 24 hours in advance of the town halls using this form.
Speakers and Q&A panelists for the town halls include:
Daniel Diermier, Chancellor, Vanderbilt University
Susan R. Wente, Provost and Vice Chancellor for Academic Affairs, Vanderbilt University
Jeffrey R. Balser, MD, Ph.D., President and CEO, Vanderbilt University Medical Center, Dean of School of Medicine
William Schaffner, MD, Professor of Preventive Medicine, Health Policy and Infectious Disease, Vanderbilt University Medical Center
Linda Norman, DSN, RN, FAAN, Valere Potter Menefee Professor of Nursing / Dean of Vanderbilt School of Nursing
Pam Jones, DNP, RN, NEA-BC, Sr. Associate Dean, Clinical and Community Partnerships, School of Nursing, Fellow in the American Academy of Nursing
André Churchwell, MD, Vice Chancellor for Equity, Diversity, and Inclusion, Vanderbilt University and Chief Diversity office, Vanderbilt University Medical Center
Eric Kopstain, Vice Chancellor for Administration, Vanderbilt University
Register for the faculty, staff and post doc town hall. >>
Register for the student and families town hall.>>
These town halls continue a series of sessions hosted by campus leadership to discuss the university's Return to Campus Plan.
All available details on the university's plans for the 2020-21 academic year can be found on Vanderbilt's Return to Campus website.