This post was originally published on this site
SHARELINES

The Vanderbilt Aerospace Design Lab team claimed top honors in the 2020 Student Launch competition. Team members (graduation placements in parenthesis) are, left to right, Alex Barnett, (Permobil); Matt MacDonald (GE); Ethan James (TBD); Kis Tamas (Stanford); Tristan Gilbert (UC Berkeley); Sophia Moak (GE); Jake Gloudemans (TBD); Abbey Carlson (Boeing); Luke Neise (Stanford); Ben Hsu (US Govt.); Adam Smith (Vanderbilt); and Emre Kanli (Imperial College). Not pictured is Jon Powles (SpaceX).
---
The Vanderbilt University rocket team has won an unprecedented seventh NASA Student Launch national title.
NASA officials today announced the Artemis Generation winners of its 2020 launch competition. By NASA's comprehensive grading, the Vanderbilt team edged teams from second and third place winners, University of North Carolina-Charlotte and the University of Alabama-Huntsville, and 43 other university competitors to claim its seventh national title in the past eight years. This year's competition drew teams from 19 states and Puerto Rico.
For the first time, the team won the Vehicle Design Award, which goes to the team with the most creative and innovative vehicle design while maximizing flight safety. The Vanderbilt team will receive a $5,000 award from Northrop Grumman, NASA's Marshall Space Flight Center industry partner, for their win.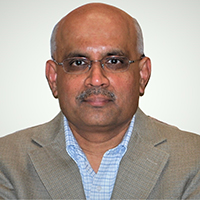 VADL Director A. Anilkumar
"The Vanderbilt rocket team has won the competition seven times in the 13 years it has competed, surely becoming the most successful student team in the university's history," said Mechanical Engineering Professor Amrutur Anilkumar, faculty adviser and director of the Vanderbilt Aerospace Design Laboratory, home of the rocket team. "This striving for perfection in all areas is exactly what makes the rocket team quintessentially Vanderbilt."
NASA Student Launch challenges teams from colleges and universities from across the United States to build and fly a high-powered amateur rocket carrying a complex payload to over 3,000 feet above the ground. The rocket then must descend and land safely before its scientific or engineering payload—one that meets NASA's space exploration initiatives—can begin its work.
For this year's competition, NASA required teams to design a UAV or a rover that would fly on a rocket to a team's pre-selected height and on landing conduct a payload mission requiring collection of a 10mL sample of simulated lunar ice.
University teams competing in the launch competition this year faced a new and unprecedented hurdle: a coronavirus pandemic. NASA replaced this year's in-person, year-end events with home-based and virtual events, causing modifications to the timeline and project expectations. The NASA launch competition typically occurs the first weekend in April at an Alabama location.
"By the time the team completed full-scale launches in mid-February and submitted extensive final readiness reports to NASA, the full blown implications of Covid-19 were starting to emerge and the fate of the final competition in April, along with a year's worth of engineering progress, seemed up in the air," Anilkumar said.
"After spending some confusing days on campus following return from spring break, we got word from NASA that it had scrubbed the competition launch due to national social distancing guidelines and had decided to use the results from the FSL [full-scale launch]," said team leader Alex Barnett. "But our team was firmly on or ahead of schedule, having completed about 90% of its stated goals."
"This year, we tackled the challenging design of an airborne UAV sampling in a complex planetary terrain, picking up the prescribed simulated ice sample. We demonstrated air borne sampling during the FSL, and were well on our way to autonomous navigation and sampling," said Luke Neise, the team's payload lead.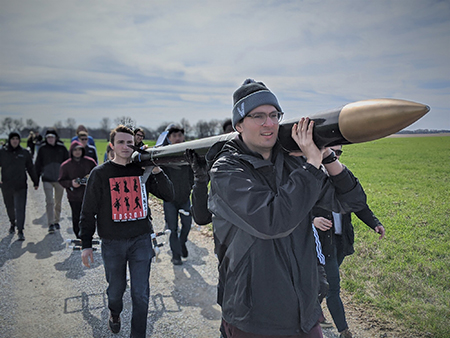 Jake Gloudemans (front) and Alex Barnett and the rocket team carry their fullscale rocket 'Robin' to the launch pad in Hopkinsville, Kentucky on Feb. 15, 2020.
---
The Vanderbilt team conducted its full-scale launch (video) at Burman Farms in Hopkinsville, Kentucky, on Feb. 15. On a blustery and windy day when the challenges were at the highest level, the team had a successful rocket flight and recovery.
The rocket reached an apogee of 3463 ft. against a predicted 3500 ft. for the prevailing conditions. The rocket landing was followed by a payload separation from the host vehicle and onward mission of the payload for flight-based sample collection. Under manual control, the UAV conducted two aerial sampling missions (video) collecting simulated ice samples of about 15 mL each time, facilitated by an intermediate recharge at the rocket base station.
"On the day of full-scale launch, the weather was rough. It took a while to get the 48-pound,10-foot rocket off the ground as the igniter kept failing. When it finally got off, there was relief and jubilation! The UAV was securely retained by the restraining system all through the high 'g' rocket launch, parachute deployment and landing," said Anilkumar.
Vanderbilt's aerial sampling was enabled by a sampling tool with counter rotating scoops that could be raised and lowered from the UAV via a winch. Flight repeatability was achieved through a charging station that deployed once the rocket landed.
"Charging was via contacts on the UAV feet with the charging electronics mounted in the payload bay of the rocket, and that could be accomplished completely in 40 minutes at FSL," said Emre Kanli, electrical engineering major and electronics team member. The team accomplished two 10-minute sample gathering flights and one complete recharge during the 1-hour period at FSL.
"Like every year, the challenge taken on by the VADL team has been above and beyond the NASA Student Launch requirements," Anilkumar said. "The added challenges of UAV aerial sampling, recharge, and repeat missions were well demonstrated during the full-scale launch."
NASA plans to deploy aerial sampling in its future interplanetary spacecraft designs and missions, as it provides fast reconnoiter and sampling access in difficult terrains. "The Student Launch competition has been an excellent opportunity for the Vanderbilt team to showcase its novel designs," Anilkumar said.
The students' desire for perfection seems to spill over to many other aspects of university, Anilkumar said. This year's team included two NCAA varsity sportswomen. "Other major accomplishments for the VADL program this year have been team members receiving the university's Founder's Medal, graduating Summa Cum Laude, receiving NSF and NDSEG Fellowships, and an alumnus being named in the Forbes 30 Under 30 list for Energy and Innovation," he said.
"This year's teams showed true innovation and determination as they tackled the new payload challenge and the unconventional methods we had to employ to complete the competition," said Fred Kepner, an education program specialist and lead for Student Launch at NASA's Marshall Space Flight Center, host of the competition. "Despite the unique obstacles they faced this year, their commitment to technical excellence and carrying on in the spirit of the competition never wavered."
The top 10 finishers in the college/university division are:
Vanderbilt University
University of North Carolina at Charlotte
University of Alabama in Huntsville
University of Akron, Ohio
North Carolina State University, Raleigh
University of Notre Dame, South Bend, Indiana
Auburn University, Auburn, Alabama
Oregon State University, Corvallis
Purdue University, West Lafayette, Indiana
University of Cincinnati, Ohio
For 20 years, Student Launch has provided a realistic experience to students that resembles the development, test and operational lifecycle NASA and industry engineers use when developing and operating new hardware. It is one of the seven Artemis Student Challenges.
---
Contact Brenda Ellis, 615 343-6314
brenda.ellis@vanderbilt.edu
Posted on Friday, July 24, 2020 in 2020 NASA Student Launch Competition, Amrutur Anilkumar, Artemis Generation launch champions in 2020, VADL, Vanderbilt Aerospace Design Laboratory, Vanderbilt Rocketeers, Vehicle Design Award,Alumni, Electrical Engineering and Computer Science, Home Features, Mechanical Engineering, News, News Sidebar