This post was originally published on this site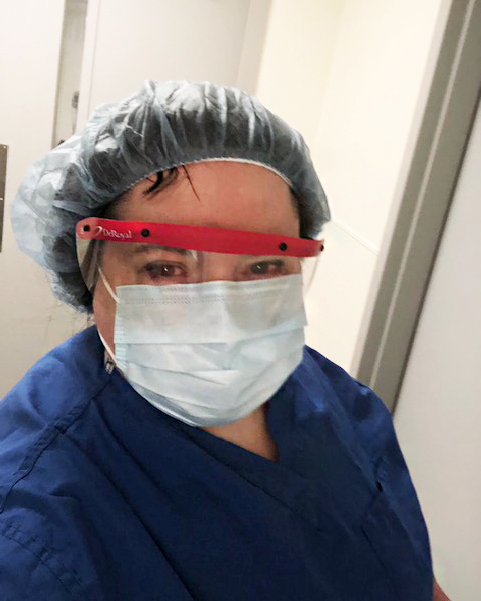 Source: Michele Blazek
Blazek on the job as Director of Environmental Health and Safety at Stanford Health Care.
When the COVID-19 pandemic hit the United States in the winter of 2020, hospital systems across the country braced for its impact. They implemented new safety procedures for their staff and prepared for a surge of infected patients. One of the people who worked tirelessly to put these plans in place was Michele Blazek (CEE EPP '87), director of environmental health and safety at Stanford Health Care.
Blazek and her team at Stanford Health Care jumped into action in February to make plans to keep their staff safe and their patients cared for—all while creatively tackling the challenges of limited space and personal protective equipment (PPE).
"Innovations happen when you get open minds together. It can come from anywhere. But, if you have multiple minds together, brainstorming, working on issues, and focusing on quality, you'd be surprised what innovations happen," says Blazek.
Drive-through testing sites were set up in parking garages and at clinical locations within a matter of days. Work was expedited to increase the number of intensive care unit beds and isolation rooms and to secure ample PPE to protect staff and patients.
Blazek emphasizes a key point about this heavy lift: it was possible because of a multidisciplinary team. Groups like the Infection Prevention and Controls team, the Supply Chain team, and the Clinical Operations team collaborated to complete these enormous tasks.
Taking a multidisciplinary approach to problem solving has been important to Blazek since her engineering days at Carnegie Mellon University. She remembers team projects, which included topics such as radon in Reading, Pennsylvania and the deep-sea ocean mining of cobalt, as some of the most impactful in her college years.
That particular set-up of looking at problems in a multifaceted, multidisciplinary way with teams of people has followed me throughout my career.

Michele Blazek, Director of Environmental Health and Safety, Stanford Health Care
"You'd have students from what is now the Tepper School of Business, the Heinz College of Information Systems and Public Policy, and the College of Engineering all in a classroom looking at a problem from multiple points of view. This included technical points of view, governmental points of view, and business points of view," says Blazek. "That particular set-up of looking at problems in a multifaceted, multidisciplinary way with teams of people has followed me throughout my career."
Blazek's career in environmental health and safety has been an impressive one, or some may say, two. Before Stanford Health Care, Blazek spent 25 years working at AT&T. She left the company when she retired in 2015. At AT&T, she worked on issues of regulatory review and permitting, and managed the Industrial Ecology program. She also directed the sustainability program where she worked on projects such as exploring the environmental impact of the telephone system or how to make data centers more efficient.
"I've had a long career. I graduated in 1987, and I'm already a retired person," says Blazek. "It's my fifth year at Stanford Health Care. It tells me that your career can really morph and change over time."
Blazek has remained connected to Carnegie Mellon and is passionate about the important ways the campus has become more inclusive. She serves as a member of the Dean's Advocacy Council and generously supported the construction of ANSYS Hall, where she named a mother's room.
"There were very few women working or going to school in engineering when I was at Carnegie Mellon. Now you have women who are parents and need that room," says Blazek. "Even if that was my last penny, I would devote it to that because that's our next generation. I mean, just imagine the babies that hang out on campus. They're going to be our engineers in 25 years."
Blazek keeps her focus on a bright future for the next generation as she works with her team at Stanford Health Care. As the pandemic continues, her team continues to create new safety and care standards that keep all staff and patients safe in this "new normal" as many people return to routine appointments and elective medical procedures.